This year's SXSW was one of good fortune. It seemed like everything went our way – from transportation, to a plethora of engaging shows, to one fantastic food truck choice after another. To sum up, this SXSW 2017 was one of the best I've attended in years, and here are some reasons why.
Best Band Discovered –
Boogarins
I feel compelled to start off with this category because despite all the great bands I saw this year, Brazil's psych-prog outfit Boogarins continues to dominate my thoughts on the week of music. I had listened to the band on a NPR SXSW Sampler (a great start for planning a SXSW week), but I had no idea what I was in for. What resembled four high schoolers took the stage with a stoner daze fixated upon all of their faces, but when they started into their first song, they resembled Gods, the lethargic appearance suddenly becoming angelic. The guitars swirled, the drums pounded with tribal tenacity, and the bass steadily pulled the whirlpool of psychedelia forward. Dino Almeida, the frontman that resembled Kawhi Leonard with an afro, sang like a choir boy, all while maniacally assaulting his guitar into unexpected directions. The drumming of Hans Castro was truly a thing to marvel, hitting his snare with a perfect blend of power and precision, resulting in one the best percussion performances I've seen in years.
How much did I love Boogarins? So much that I saw them again two nights later, reliving the same glorifying experience.
Here's a clip of when Boogarins were on KEXP:
Best Solo Artist Discovered-

Tim Darcy
At the same show that I discovered Boogarins, I would also find my favorite "new" solo artist of the week, although I'd soon figure out that he wasn't new to me after all. We arrived late to his performance, but instantly I found myself drawn to his baritone drawl and the simple one-man band approach. Something seemed eerily familiar about his voice and his performance, but it wasn't until his final song that it hit me: "He's the dude from Ought!" I've written about Ought a lot on this blog, so the fact that his name slipped by my periphery may seem a bit foolish. Then again, if you've ever tried to make your way through the list of thousands of artists at SXSW, you may give me a pass for not instantly recognizing his name. His distinctive voice, however, is hard to miss.
Here's a clip of Darcy from a performance last month:
Biggest Disappointment –

Downtown Boys
At last year's SXSW, Downtown Boys were all the talk. Everyone was buzzing about their bombastic live performance and how it was a must see in 2016. Well, as often happens at SXSW, I was never able to catch one of their shows last year, so I made it a priority in 2017, choosing it as the closing performance of our first night. Anticipation grew as they set up their gear, but that's about as high as my excitement would get. Don't get me wrong, the band does bring a certain level of unbridled energy to the stage, and I can understand how someone might enjoy it. But once they started playing, I didn't quite feel the same enthusiasm. They sounded hardcore, sang political anthems of angst, and bounded about the stage like punks of yore, but something felt amiss. I can't quite put a finger on it, but it all felt a bit too theatrical and lacking in the authenticity department. Then again, maybe I'm just an old curmudgeon.  
Biggest Surprise –

Girlpool
I've seen Girlpool play at SXSW before, and I've listened to their 2015 album Before the World Was Big. However, I've never found myself necessarily drawn to their music. So when they took the stage between acts that I'd wanted to see, I didn't expect much. After only one song, my opinion had quickly changed from indifference to infatuation. They sounded like an amalgam of every MTV Buzz Band from 1993, and I mean this in a good way. There was just something so nostalgic yet refreshing about their bouncing guitar licks and raw vocals. I began to think about the difference between the band I saw this year and last year, and based off my YouTube searches, the duo of Cleo Tucker and Harmony Tividad rarely tour with a band. With the addition of another guitarist and a drummer, their former folk approach took on an almost Sebadoh appeal. As a result, I look forward to their upcoming album, Powerplant.
Since I can't find a performance by Girlpool with the full ensemble, here's an extremely weird video for "Powerplant" off their upcoming album:
Best Mode of Transportation –

Spin
When not watching bands, eating street food, or imbibing, you are most likely spending your time moving about the real life video game that is the streets of Austin during SXSW. With transportations services like Uber and Lyft no longer permitted in the city limits, the act of finding your way around was made even more difficult. We took the busline when we could, but this was not always the most savory experience. There was also a poor man's Uber app called Fasten that did the job, although there never seemed to be enough drivers. My favorite means of transportation had to be Spin.Pm, a stationless bike sharing program that allows anyone to use a bike for free. Many cities now have rental bike stations, but what makes Spin.pm so great was that you didn't have to worry about returning it to a hub. Instead, you left it when you were done, notifying the app that your journey was complete. This made for some pretty fun adventuring for my friend Tony and I, traversing far distances to see shows that we otherwise wouldn't have been able to reach by foot. If this is the future of green transportation in big cities, I support it 100%.
To read more on this tech-transportation start-up, check out this recent article:
https://techcrunch.com/2017/01/25/spin-wants-to-bring-dock-less-bike-sharing-to-the-us/
Best Stage Performance –

Octopus Project
Upon hearing about two minutes of Octopus Project's performance, I was ready to head to the inside stage at The Mohawk to see who else was playing. Let me be clear – Octopus Project's blend of electronic art rock is not my type of music. When I realized that my friend wasn't with me, I returned to the outdoor stage to find him entranced by the performance on the stage. Looking up to see two drummers raging away at their kits, I decided to give it another chance. For the next 30 minutes, the four-piece project put on a wildly entertaining show, complete with dance moves, guitar theatrics, and of course, the entrancing theremin antics of Yvonne Lambert. I've seen bands utilize the strangely space-age sounding instrument before, but never have I seen someone with such a mastery of the theremin, manipulating it in a way that was captivating and wildly entertaining.
A good clip of Lambert's skills on the theremin: 
Best Solo Artist – 

Alex Cameron
Alex Cameron's Jumping the Shark cracked the top 10 in my year end list of best albums, so it goes without saying that I made it a priority to see him at SXSW this year. As much as I enjoy the album, I didn't expect much from the performance due simply to his music's bare-bones, synthesized backdrop. And to be honest, his set-up was just that – playing backing synths through a computer while a saxophonist and a guitarist provide brief flourishes. Regardless, he sounded great, and what made his performance even more enjoyable was his random banter between songs. Oftentimes a musician pontificating between songs can be annoying, but the same humor that made Jump the Shark such a fun listen was also present in his random stories of towed cars and vape pens.
Here's a performance from last year: 
Best Band –

Rolling Blackouts Coastal Fever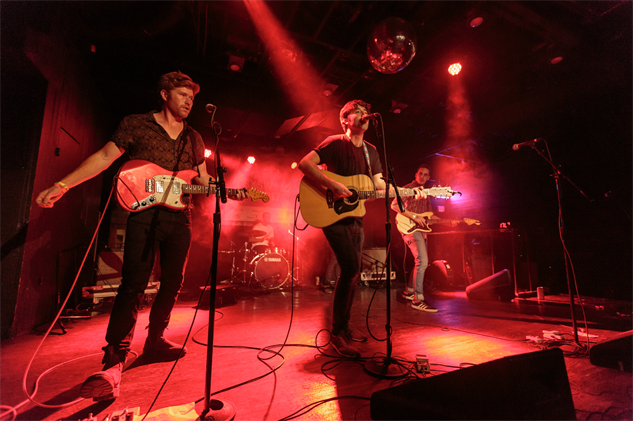 Back in December when I placed Rolling Blackouts Coastal Fever's debut at number #19 on my year end list of the "Top 40 Albums of 2017", I wrote:  "Talk Tight might only be comprised of seven songs, but I defy you to find a more enjoyable 29 minutes of music in 2016." Needless to say, I am obsessed with this band, and I can't remember the last time I was this excited to see a specific band at SXSW. We would end up seeing the band twice, and both performances didn't disappoint. Oftentimes, bands choose to play new material at SXSW because the festival isn't about appeasing the common denominator; it's a chance for music obsessives to get a first glimpse at what is to come. This results in many performances resembling more of a feeling out period, the audience trying to get a sense of the new, unfamiliar material. Rolling Blackouts blend of infectious garage pop is different though. They may have played mostly new music, but you wouldn't know it from the crowd reaction. Within the first minute of each new song, the audience would quickly get the feel for it and soon after be bouncing about to the irresistible melodies. Rolling Blackouts live performance only heightened my adoration of a band I already loved.
Here's a clip of the band playing "Clean Slate" several months ago:
Why

SXSW

Is Still The Best Music Festival On Earth:
This was my 14th year at SXSW, and believe me, a lot has changed since 2004 (and not always for the better). The streets are clogged with people, the occurrence of free swag/beer/food is less and less with each passing year, and the one time endearing downtown atmosphere is quickly being consumed by swanky hotels and high-end condos. But I can't think of any other festival that offers its audience the opportunity to see big-time bands in small-ass venues. Case in point: this year I got to see Spoon at the venue formerly known as Emo's. The same band that will be playing large theaters this summer took the cramped stage and played their hearts out while I stood ten feet away, basking in the glow of their guitars. Yes, SXSW is amidst a corporate takeover, but I can't think of another festival that offers its audience a chance to see their favorite artists in such intimate and interesting settings.